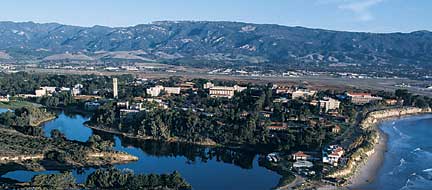 The University of California Santa Barbara's campus sits perched on the Pacific Ocean, a short distance away from the Channel Islands and beneath the Santa Ynez Mountains. The campus and much of the student living areas offer breathtaking views of the surrounding environs. UCSB is also conveniently located a few minutes away from Downtown Santa Barbara, which boasts ample shopping, fine dining, a coastline view and a vibrant nightly social scene.
UCSB's total enrollment is 19,799, making it a school large enough to house the resources you will need as a college undergrad and small enough to make sure you say hi to someone you know every day on campus. With a nine hundred member faculty that includes Nobel winners and an offering of over 200 different majors, you'll be able to find exactly the kind of education you're hoping for. Undergraduate research opportunities abound, and thanks to constant construction you'll have access to state of the art facilities and resources.
The best thing about living at UCSB your freshman year: everything. Not only will you live literally minutes - and that's by foot - from the beach, you'll be a part of a school that looks on its undergraduate population, and particularly its freshmen, as one of its most important aspects. Every year new construction begins, continues or finishes on any number of new amenities. You'll never be very far from class, from the gym, from bookstores, ATMs, restaurants, entertainment venues and everything else.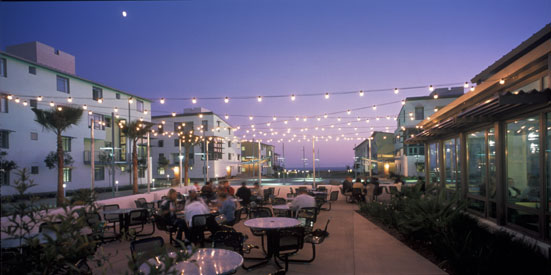 Each on campus dining commons, the places where you will eat and socialize for an entire year, is being rehauled and modernized. Carrillo Dining Commons has just been refurbished, De La Guerra (DLG) is in the process of being modernized and Ortega will soon go under the same process. UCSB is changing the idea of what dining commons food can be so that you won't ever have to look forward to going home just to eat.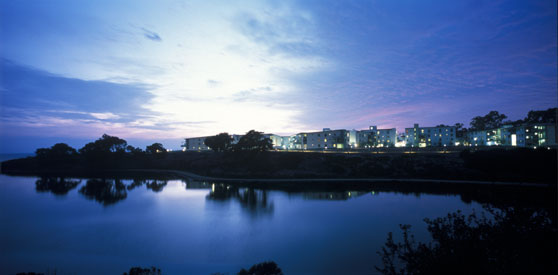 The new Manzanita Village literally overlooks the ocean and is the ultimate in comfortable on campus living. This new complex opened in September of 2002 and provides residence hall style housing to 800 UCSB undergraduate and graduate students. All sorts of services are geared towards making your first year here, whether as a transfer student or as a freshman, one of the best times of your life.
And that's just the campus....
Learn about Isla Vista
All images and text are the property of
UC Santa Barbara
and
UCSB Hockey