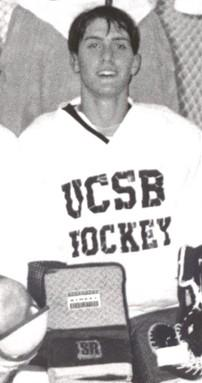 Left: Steve Underhill at UC Davis, 1994.... Right: Steve today
Stephen Underhill was the leader of the group of students who brought club roller hockey into existence at UCSB. Following the legendary traditions of the quarterly battles between hundreds of student floor hockey intramural teams, Steve brought Santa Barbara to the next step. As the club's first goaltender Steve helped the Gauchos quickly make a name for themselves, and although his career would end in disappointment with a third place finish at college nationals in Las Vegas, Steve Underhill's legacy lives on today in many forms. UC Santa Barbara Roller Hockey is celebrating its tenth anniversary this year, as well as the opening of the
RecCen II
later this year.
What's your name?
Steve Underhill.
So what was your nickname?
Underwear was most common, otherwise Underage, Under-construction, Undergrad, etc.
How many years did you play for the team?
2 years floor hockey, 3 years roller hockey.
What year did you graduate from UCSB?
1997.
What kind of degree did you graduate with?
B.A. Bus Econ
B.S. Probability and Statistics with emphasis in actuarial science
Where are you living now?
San Rafael, CA. Recently returned from living 2 years in Munich Germany .
What's your occupation?

Actuary.
Is that what you were expecting to be doing at this point in your life?

In college, I would have just been happy knowing I would have a job at .
How useful was your college experience in terms of what you're doing now/aspiring to do?

Courses for my major helped, otherwise, just the fact that I got out and socialized gives me a leg up over many in my profession.
What do you miss most about UCSB/Isla Vista?

Having so many friends living in a 1 mile radius.
Do you keep in contact with any UCSB Hockey alumni, and if so, whom?

Primarily Noah "Bungee" Smith, also with Rob Donner and a few others occasionally.
Are you still playing hockey? If so, where and how many times a week?

Haven't re-established since moving back to the USA. In Germany, played league games once/week with practice twice/week.
Favorite memory of playing hockey at UCSB:

Tons to chose from: handing El Camino their first ever loss in a dramatic shoot-out, 3rd place national finishes, all-star games, rivalry vs Cal Poly, intramural rivalry vs Inhumane Society, winning the last UC Davis floor hockey tournament in 1994, then winning the first UC Davis roller hockey tournament in 1996.
Least favorite:

Despite having enough talent to win the national championship in 1997, getting embarrassed in the semis at the hands of UNLV. That was how my college career ended.
What, if anything, did you take away from your experience with the team?

A lot of leadership experience, tons of memories of great games.
How have things seemed to change since you played here? Anything the same?

Talent level is much higher than when I played. Kids in California are growing up with hockey, not true when I was growing up.
What are your thoughts on the RecCen II (the site of the new hockey rink)?

All hail Lord Bungee.
(Editor's note: Noah "Bungee" Smith was intrumental in the process that eventually got the RecCen II onto the student initiative ballot. Though having never actually played for the team, Smith was a mainstay of the Recreational Sports program and intramural hockey. He is currently the media relations director for Hockey East, and resides in Waltham, Mass.)
Here's where you dispense some advise to the current team:

One mistake I made as president was letting myself and my team get really pissed off that financial help and sponsorships weren't coming our way as much as they should have, especially from the league. Certainly the club needs to make strong efforts to gain as much financial and other support as possible, but the issue is better addressed without getting all pissed off about it. Ultimately, money and sponsor handouts are not why we play. In retrospect, the free stuff is quickly forgotten but memories of what you accomplish with the club last much longer.
Do you have anything else you'd like to mention to them?

Would love to come to an alumni game, hopefully still got enough talent left to compete with them kids.
(Editor's note: Steve and all our alumni are invited to our alumni game, to be held this coming May. Details to be announced later.)
Last parting shout out, gratuitous plug or comment:

Leave it all on the court! You're going to miss it when it's over.
Return to the Alumni index.



All images and text are the property of

UCSB Hockey