Rob Wang - Athletic Trainer
Rob has been with the Rec Sports program for many years, and is nearing the completion of his certification. He is available to all Sport Club athletes at the new Harder Stadium offices (on the south side of the facility), Monday to Friday from 2-7 PM. His office number is #1008. Services include rehabilitation help, on site medical assistance, injury prevention and general information about helping to ensure your athletic career is a healthy one. He can be reached at 805-968-1225
Rec Sports Workroom
Located in the RecCen offices, this location offers two laser printers and three internet ready computers available to any Sport Club student athlete. If you're working out and you realize you might not have the time to go home and print or look something up for class, drop on by! Located at the north end of the office suite, just go through the ground level hall and you'll find it at the second door on the right. 805-893-3253
Gino Filippin/Investec Athletic Strength Center
When construction concludes on the new ICA building, new facilities and resources will be opened up for Rec Sports. Though still in the works, the chances are good that the Rob Gym Athletic Strength Center will be open to Sport Club athletes in the near future.
Academic Units
Sport Club athletes receive a .5 unit for each quarter of participation. This .5 unit is a lower division PA (Physical Activities) class that can count towards the overall unit requirement and/or the lower division requirement for the Physical Education Minor.
The team currently holds its Practices at the Earl Warren Showgrounds, an outdoor roll on rink about 10 minutes south of campus.
Anticipation has been steadily growing, however, about the Recreational Center Expansion project, or the RecCen II. Passed in the Spring of 2000 by a referndum of the students of UCSB, the RecCen Expansion Initiative has been in the process of planning and development. During the course of last year the bidding stages of the project began.
This summer bidding ended and a contract was awarded, with construction beginning immediatedly and scheduled to finish within 18 months. The tentative date has been set for Winter of 2004, but could be as early as Fall.
Why all the excitement? Simple...
The RecCen II will house an indoor Sport Court rink that will be available for our program to use for practices, games and good ol' recreation. The rink, which will be a multi purpose facility that can accomodate indoor soccer, basketball and roller hockey, will be open to any student of UCSB. Amenities will include the following:
-SportCourt surfacing
-Full specification boards, glass and netting
-Storage space for gear
-Two electronic scoreboards
-A warm up area with a specially designed wall for practice shots
-Drinking fountains
-Showers
-Fully equipped areas for scorekeepers, player benches and penalty boxes
-Retractable soccer nets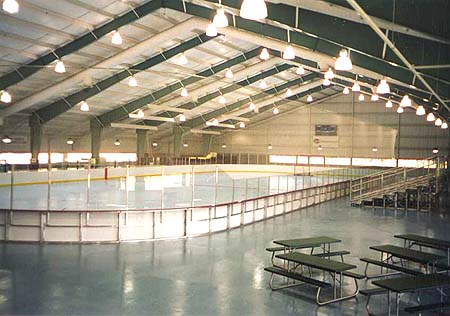 Sample rink designed by Border Patrol: In-Line Hockey Center - JCC of Detroit
In addition to this, the overall facility will also feature thousands of square feet of weight rooms, cardio machines and locker space - you won't ever have to wait again to exercise, because if the RecCen is busy you can just walk fifty feet to the RecCen II. An indoor rock climbing wall and a twenty person jacuzzi are also part of the project.
View the RecCen II Construction Site Pics
February 11, 2004 Pictures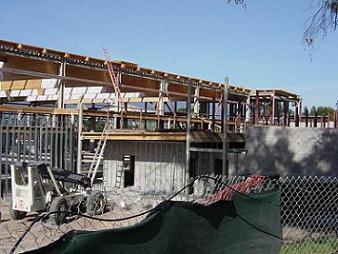 March 29, 2004 Pictures
May 6, 2004 Pictures
All images and text are the property of
UCSB Hockey