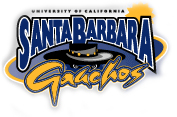 The roller hockey program at UC Santa Barbara is just one of many on the West Coast and in the nation. Collegiate roller hockey has grown in leaps and bounds over the last decade, and every new season brings anticipation for something greater than the last. With so many collegiate roller hockey teams out there, what sets us apart from everyone else? Three things:
Our Mission
,
Our History
and
Our Team
.
UCSB is a charter member of the Western Collegiate Roller Hockey League (
WCRHL
), one of eight regions of the National Collegiate Roller Hockey Association (
NCRHA
). We compete at the Division I level. We also offer a "B" program which competes against other B teams as well as select Division II schools.
The UC Santa Barbara roller hockey team is an official Sport Club under the auspices of the Recreational Sports department (
www.par.ucsb.edu
).
As an official Sport Club, UCSB Hockey has access to numerous resources. The university funds our program with thousands of dollars every year in addition to providing us with access to transportation services, organizational resources (including a full time management staff to coordinate our efforts), training personnel and facilities, academic units for our participation in roller hockey, and opportunities for employment and education in the Recreational Sports department.
The university and the student body have also demonstrated an unprecented degree of commitment to our program in the form of the RecCen II. The intiative to expand the original Recreational Center was passed in 2000, paving the way for our very own indoor SportCourt facility to be built on campus and within biking distance from student housing.
This new rink will allow UC Santa Barbara to train and prepare in a way no other school in the nation can match. The idea of "twenty-four hour hockey" has permeated this school with an excitement for the sport and what is to come. Thanks to this and many other factors, our program has grown in leaps and bounds and encompasses dozens of players in several different tiers of competition.
Here at UC Santa Barbara, the sky is the limit.
All images and text are the property of
UCSB Hockey