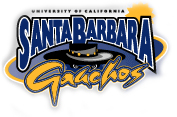 The roller hockey program at UC Santa Barbara is just one of many on the West Coast and in the nation. Collegiate roller hockey has grown in leaps and bounds over the last decade, and every new season brings anticipation for something greater than the last. With so many collegiate roller hockey teams out there, what sets us apart from everyone else? Three things:
Our Mission
,
Our History
and
Our Team
.
Begun in 1994 by Stephen Underhill and company, we are entering the 2007-08 season looking ahead but also appreciating what has come before.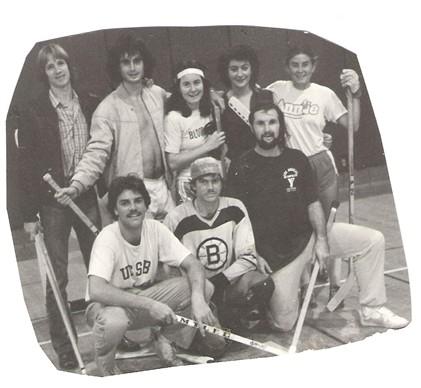 In the seventies and eighties, floor hockey was at its peak at UCSB. Almost a hundred intramural teams would compete regularly each quarter in the close confines of Robertson Gymnasium. This gave rise to the origins of the club.
Once the roller hockey aspect took root, taking shape in Rob Gym and moving out into the community (the Thunderbowl, Earl Warren Showgrounds and the Hanger), Santa Barbara became the home of a flourishing hockey program. The traveling floor hockey team turned into the club roller hockey team, and quickly made a name for itself. The patchwork network of colleges that had been scheduling games with each other developed into regional and national bodies. Suddenly collegiate roller hockey was a vital and growing sport, and UCSB was always at the forefront of things.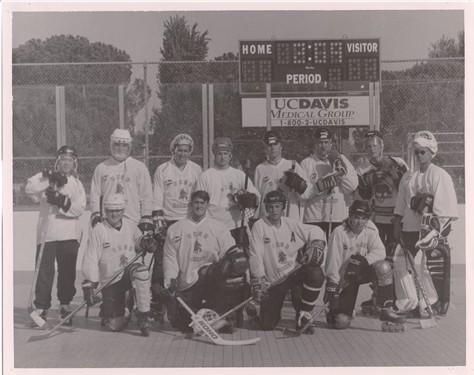 Dominating on the West Coast, UCSB has made numerous national tournament appearances, won multiple regional titles and, in 1999, finished second in the nation after a nail biter of a game against Michigan State. As a charter member of the
WCRHL
(Western Collegiate Roller Hockey League), UCSB has seen the likes of the CRHL (Collegiate Roller Hockey League), NCIHA (National Collegiate Inline Hockey Association) and WCIHL (Western Collegiate Inline Hockey League) come and go. Now UCSB is one of many teams competing in the
NCRHA
(National Collegiate Roller Hockey Association). Thanks to a long tradition of student athletes, roller hockey at UC Santa Barbara is alive and well.
Even more vital to the program has been the continued committment of a small group of student athletes who chose to also take on the mantle of player-coach. Names like Salyer, Wagner, Gotanda and Douglas have swiftly come to mean something to a program now celebrating its tenth anniversary. Without the individuals who stepped up in the past to help us obtain our official club status and the funding that goes with it, who made sure we had jerseys and rides and hotel rooms and a chance for success, who gave up their time so that other student athletes like themselves could enjoy the game without worry, we would not be here today. And without the hard work of those same people, the dream of our own indoor SportCourt facility would never have been realized. We thank all those who have come before, and look forward to carrying on the legacy that is UCSB Hockey.
All images and text are the property of
UCSB Hockey