Right next door to UCSB sits Isla Vista, the main housing area for off-campus students. You'll find no place like it: thousands of young, vibrant people living in close quarters with each other can produce some of the most memorable moments of your college career. Living on beachfront property as a college student is a daily reality for many of Isla Vista's residents; you're never far from the surf, or the mountains, or a beautiful sunset. It's all a part of IV's one of a kind experience.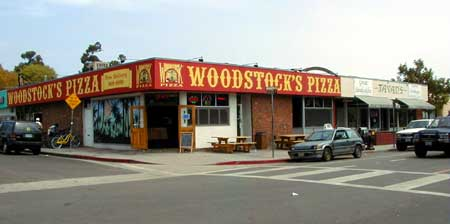 Downtown Isla Vista holds traditional standbys Woodstocks and Freebirds besides a wide array of shops, services and other restaurants. Lounge at Java Jones, begin your day with a Leadbetter sandwich from the Bagel Cafe, chat it up with the knowledgable crew at Emerald Video about which DVD to rent... life in Isla Vista offers a much needed break from studying. And if you want to include studying, drop by the Study Hall for an all nighter.

IV offers a variety of living choices that leave you, at most, four blocks away from the ocean. Beachside Del Playa Drive (or DP, as you'll soon know it) is just minutes away from even the most distant house. Whether you're looking to live in a one person apartment or a fourteen person household (with a dishwasher, hopefully), you'll find everything and anything you could want out of a college home. You can be in the thick of things and live on the 6500 or 6600 blocks of DP, or, if you prefer, catch a different vibe on the 6800 block of Trigo. Wake up to the ocean as your backyard, then take your Sociology homework with you down to the beach for an easy day under the sun. The pace of college life doesn't always have to be fast and frenetic - in IV, relax and lay back in the sun.
The social scene in Isla Vista is well known for its energy and variety. There's a little something for everyone, whether you're looking for IV's famous Halloween or just a casual night around the town with your friends. Cruise Del Playa on a Friday night, check out a performance at Giovanni's, listen to a poetry reading at Java Jones, watch the bands battle at Anisq'Qyo Park or make your own schedule and itinerary. Life in Isla Vista is just one of the many reasons that a UCSB hockey player will love college.
Learn about UCSB Hockey
All images and text are the property of
UC Santa Barbara
and
UCSB Hockey