February 9, 2004
Davis Indoor - Davis, CA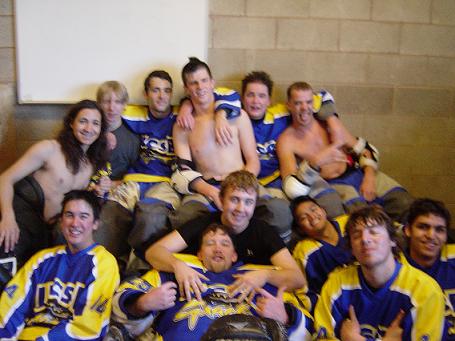 The B team wrapped up its season this past weekend in its final tournament at Davis, CA.
It's been a long year for these Gauchos, 2003's WCRHL B division champions. The season began auspiciously when after a huge turnout for tryouts two B squads were formed. After the first tournament, though, one team folded and the remaining players gathered together on the other squad. With a record of 1-11 going into Saturday's tourney, their hopes for a postseason appearance relied on a possible 4-0 sweep coupled with a 0-4 performance from Davis B.
With the news of CSU Monterey Bay's B team forfeiting the tournament, though, those hopes were dashed as the forfeit gave Davis B the lone win it needed to knock the Gauchos out of contention. The team would soldier on though, fighting tenaciously in its first game of the day against the Aggies. UCSB and UCD would be tied at the end of the second, only to have Davis break open the scoring enroute to an eventual 9-3 win after Santa Barbara was penalized for eleven of the twelve minutes of the third period, including a 4 minute 4-on-2 double minor penalty kill. The questionable officiating combined with a potent (and very long) Davis power play that left the Gauchos with a 1-1 record thus far.
It looked as if that record would quickly change to 1-2 after Cal Poly SLO B Gold jumped on the Gauchos to open up a 6-2 lead going into the third. Down four goals and faced with a very talented SLO squad, Santa Barbara would roar back with four straight unanswered goals, led by senior forward Loren Cogswell and backed by the outstanding goaltending of senior netminder Christian Jones. The story of the game was written clearly for all to be seen in the way the two teams played in the last minute of play: with just a handful of seconds left, Gaucho senior forward Sean Gillespie had two scoring chances in a mad last second scramble. Although Gillespie did not score, it showed that if given one more period Santa Barbara would probably have walked away with a win.
The B team would finish the day by completing their swing around and crushing CSU Monterey Bay A 11-4. The Gauchos controlled the game with skill and patience, barely allowing the Otters out of their own zone and pelting Monterey Bay's goalie with shot after shot. Dominating both physically and in terms of puck control, the B team put on its finest performance of the year, capped by two goals from goalie Mike Lovato (who skated out during the game) and a hat trick from junior defenseman Pete Culberson.
Congratulations to the B team for their 2-1-1 record at Davis. Although they expected more out of this season, they ended it strongly and on a high note. Look for the B team to reload and come out firing in 2004-05.
And to our seniors, thanks go out to you guys for all the hard work you've put in. Congratulations, and good luck to you in your future endeavours:
Loren "Smiley" Cogswell, Forward, 2000-04
Sean "Monkey" Gillespie, Forward, 2003-04
Christian "Old Man River" Jones, Goalie, 2002-04
Phil "Karate Chop" Kamhi, Forward, 2002-04
All images and text are the property of
UCSB Hockey