November 17, 2003
Coast 2 Coast - Huntington Beach, CA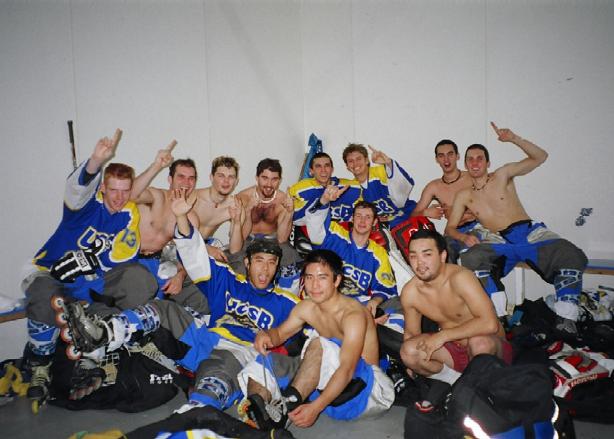 UCSB's third tournament of the year at Coast 2 Coast was filled with both expected and unexpected results. The first game of the event came against Berkeley. Cal was just coming off a surprising victory over highly ranked Division III power Moorpark College, having added depth to their roster with some recent additions. Santa Barbara would dominate the upstart Bears though, with freshman goaltender Sean Seal leading the Gauchos to a 9-1 victory.
Visiting Arizona State would fare the same as UCSB would again dominate in a 9-1 win over the Sun Devils. This was the first ever meeting between the two schools, as ASU is an out of conference team.
The big matchup of the day came in the third game when the Gauchos took on the Cal Poly Pomona Broncos. Pomona, the defending 2003 Division I national champions, featured senior forward Tom Wiebe and junior goalie Stephen Freeman, both standout players who lead their team to the WCRHL's first national title. Santa Barbara would start the scoring with an early goal by senior Mike Saksen in the first period, which was answered by Pomona right afterwards. UCSB scored the next two goals, with Pomona adding one more. After that, the game featured a surreal string of goals from both sides, with Santa Barbara having three scores on one shift (sophomore Gordon Jack had two of those) leading up to a seemingly insurmountable 7-2 lead in the third period. Pomona would bounce back with three goals to give the Gauchos a scare, but UCSB would hold on for the 7-5 upset of the Broncos. Seal again led the team to a win with outstanding goaltending despite several questionable goals.
The day would end with Chapman University, who has quickly come to be UCSB's newest hated rival. With junior forward Derek Kokubun out of the game due to a suspension and defensemen Greg Franks and Jonathan Tu limited due to injuries, Santa Barbara started the game on the wrong foot and would end up losing 5-7 in a heated and physical match.
UC Santa Barbara currently sits at 5-4-1 in league standings. The two outstanding players of the game were Jack and Seal, both of whom had great performances against Pomona.
The Gauchos are off until Jan. 16-19, when they will head to Las Vegas to take on teams from around the nation in the NARCh Winternational College Division.
All images and text are the property of
UCSB Hockey