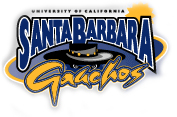 The roller hockey program at UC Santa Barbara is just one of many on the West Coast and in the nation. Collegiate roller hockey has grown in leaps and bounds over the last decade, and every new season brings anticipation for something greater than the last. With so many collegiate roller hockey teams out there, what sets us apart from everyone else? Three things:
Our Mission
,
Our History
and
Our Team
.
First and foremost, our mission is to excel at the highest levels of collegiate roller hockey while maintaining a high standard of academic excellence.
Winning is the quickest way towards longterm success for any program, and we believe in the importance of being competitive every year. We will spare no expense and go to any length to give our teams the chance for success. Thanks to the student initiative passed in 2000, we have a brand new (Opened Spring '05) indoor SportCourt facility. This facility alone gives UCSB a competitive edge, as we are the only school in the nation with a rink like this on its campus. We also, however, strongly believe in improving our players and the way they play the game.
To that end, we strive to make sure each and every one of our players gets the most out of their participation. Whether they're in our "A" or our "B" program, we hope that after each practice our athletes are better in just one facet of their game. Our goal is to improve each and every player that comes to us so that by the time they graduate, they will graduate as a better hockey player.
A decade of experience has shown time and time again that our student athletes come away with more than just memories of hockey, though. Our program strives towards a feeling of family and camaraderie during every new season, and we take pride in the fact that we practice, play, live and have fun together on a daily basis. The relationships that are fostered off the rink are just as important as anything that takes place on the rink. To that end, we strive to maintain a place where these friendships can take root and grow.
It goes beyond just our own team, however. Whether it be through free youth hockey clinics, sponsored hockey nights, support for a new rink or other events, UCSB Roller Hockey is committed to expanding the awareness and appreciation of the sport in the community. Our philanthropy is not limited to hockey related matters, though. For example, we will be proud to host a fundraiser in the Spring that will benefit the
Jack Canfield Chicken Soup Fund
, a resource for UCSB students with medical difficulties.
The kindness, generosity and vision of others have left us with a legacy, so it's only fitting that we should constantly strive to give back.
All images and text are the property of
UCSB Hockey